AC Condenser Unit Repair in Tyler, TX
Your Condenser Unit is the Heart of Your HVAC System
Your condenser unit–or compressor unit–is the most easily identifiable part of your HVAC system.
It's the outdoor unit, one of the most vital parts of your home's heating and cooling system. And when it goes down, you can expect uncomfortable temperatures shortly after.
When part of your outdoor AC unit goes down, you can trust TDI Air's experienced AC technicians to help.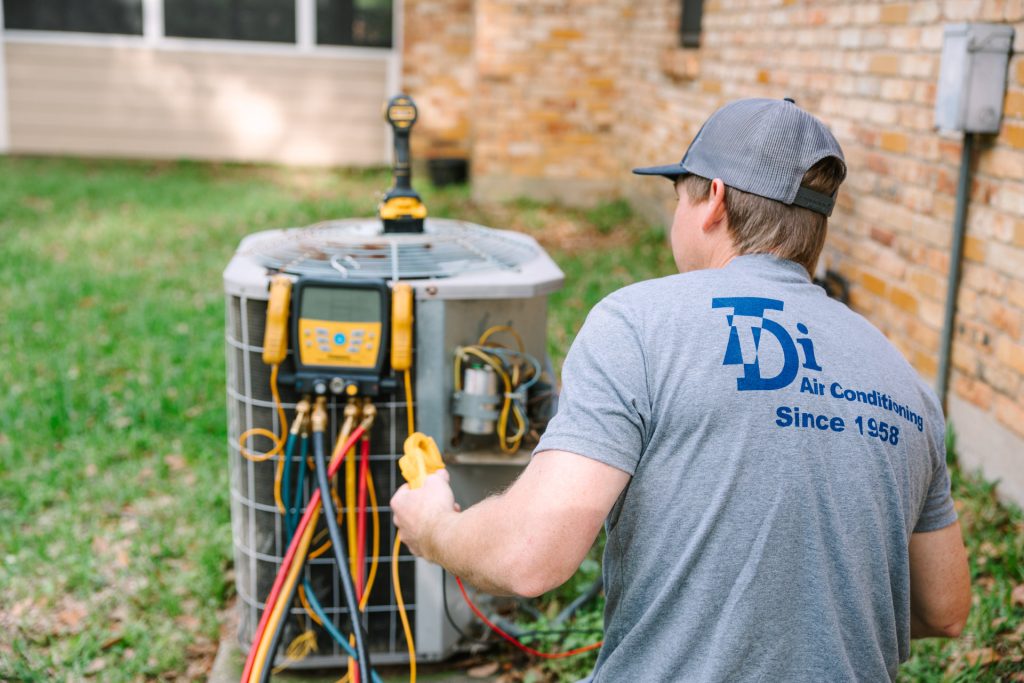 Signs Your Condenser Unit Is Malfunctioning
Reduced Cooling Ability
The biggest sign of something wrong with your condenser unit is decreased cooling capacity. Your system's air may not be as cool as it once was. It may be blowing hot hair. If that's the case, you should schedule an AC repair call.
Less Energy Efficiency
When your condenser unit struggles, your home's HVAC system will become less energy efficient. It will run longer because it isn't cooling your home properly. This is another big sign that you need AC repair services.
Odd Noises
If your compressor is making noises aside from those common to its operation, you likely have a problem. These can be mechanical and sometimes electrical problems, so you'll need a qualified AC repair technician to diagnose and fix the problem.
Reduced Airflow
If your compressor is struggling, it won't be able to generate as much airflow. This will reduce the overall power of your AC system. Diagnosing this can be difficult, but an AC repair technician can help.
Leaks
Leaks can be difficult to spot, but if you see that your condenser unit is leaking, there's a problem–most likely a refrigerant leak. Losing refrigerant can lower overall performance, TDI Air's repair technicians can help diagnose and fix this problem.
Maintenance Tips to Protect Your Condenser Unit
Keep it Clean
If your condenser coils have seen better days, your HVAC system likely isn't performing as well as it could. Make sure to regularly clean your condenser unit. They make purpose-built cleaners to do so, and its as easy as spraying it on and rinsing it with a hose.
Clear the Area
Because your condenser unit is outside, it can collect a lot of debris. There may be bushes, tall grass, and other vegetation around it. You should regularly clear this area of anything vegetation or debris.
Check for Leaks
Every few months, you can check your condenser unit for any leaks. These can be difficult to spot, but catching them before your HVAC system stops functioning can be worth the time and effort.
Yearly Maintenance
TDI Air provides service calls and maintenance plans that will ensure your condenser unit is working perfectly. We perform a thorough inspection, oil parts, and otherwise ensure the mechanical and electrical parts are working well.
Is Something Wrong with Your AC? Contact TDI Air Today!
TDI Air has been providing East Texans with efficient and effective AC repair services for almost 60 years.
If you suspect you need ac repair at your Tyler, TX, home or business, contact our offices today to schedule a service call.